A framework for promoting student mental wellbeing in higher education | Part III: Scaling peer support programs through Togetherall's Trained Peers Program
In Part III of the health promotion blog series, Brittany Todd discusses the importance of peer supporters on college campuses and the benefits of Togetherall's Trained Peers Program.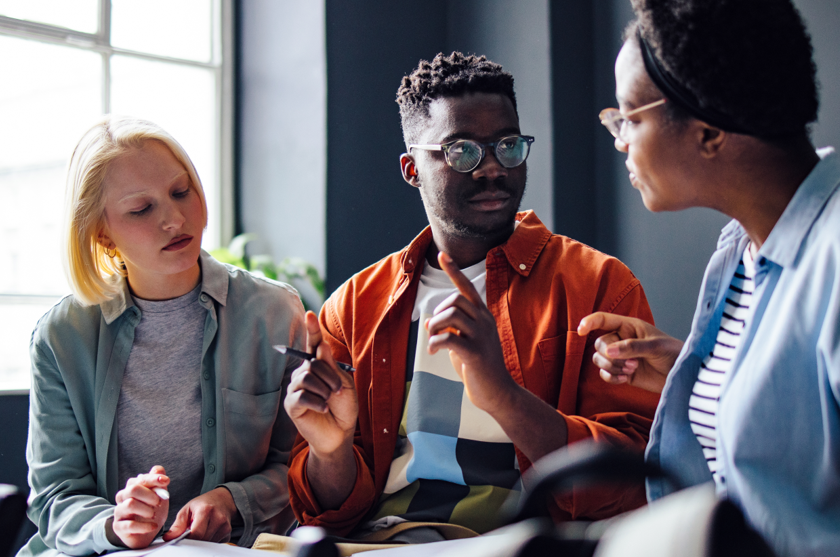 Author Brittany Todd worked in higher education and student affairs for over a decade in various roles supporting student wellbeing. She led the health promotion and prevention programs at Texas Tech University from 2017 to 2022 and is a current member of the NASPA Strategies Wellbeing and Health Promotion Leadership Conference planning committee and the Higher Education Center for Alcohol and Drug Misuse Prevention and Recovery Training Advisory Committee. At Togetherall, Brittany supports colleges and universities to successfully integrate Togetherall's peer support community into their comprehensive approach to student wellbeing. 
---
I've long been a believer in the value of peer support and education programs, and the positive impacts are well-documented. Throughout the course of my career in higher education, I worked to build, train, and develop peer educators and peer support programs. The goal was that these students, equipped with mental health knowledge and insight into therapeutic approaches, may be better able to connect with their peers and offer informed advice on how to cope with various struggles. In my experience working with college students, I've seen first-hand how listening to and learning from a peer can make a difference, as well as the life-changing impact that helping others can have on a student's wellbeing.  
Adam Grant, a professor at the University of Pennsylvania and organizational psychologist, speaks to the value of peer support and peer educators in his New York Times piece The Science of Helping Out. Grant acknowledges the motivational power behind helping someone else and offering advice. Further research conducted with a group of middle school students supports Grant's assertions and found "struggling individuals were more motivated by giving advice than receiving it". These findings are significant in that peer support is mutually beneficial, as well as having the potential to become a well-oiled, self-sustaining machine, if properly implemented and scaled, meaning a low lift and low risk for higher ed administrations. 
Peer supporters in a changing world 
In today's uncertain and often isolating world, peer support can be integral in reaching those in need of support. With all the changes brought on by COVID-19 leading to remote learning, students are harder to reach than ever – and dealing with more mental health challenges than ever before. In recent years, we've had to rely completely on digital tools to communicate with others and facilitate the higher education experience. Peer support plays an essential role in engaging other students in mental health, as they're immediately relatable since they're also students. By empowering peer educators with mental health knowledge and training, they can better support peers and make effective advocates in the community. 
Generation Z, the demographic of traditionally aged college students, has been studied for their distinct differences from other age groups. Gen Z is widely known as one of the most activist generations regarding social justice issues, especially mental health. Engaging these individuals as peer educators is almost common sense – most members of Gen Z are willing to get involved in making a positive impact. While this demographic is eager to make a difference, they are also more distressed than other generations, due to unique stressors. Therefore, they are hyper aware of what their peers are going through. 
Togetherall's Trained Peers Program 
In the Spring of 2022, Togetherall launched the Trained Peers Program. Since then, the program has had nine successful cohorts* that have increased the vibrancy of the Togetherall community. (*group of students within a college or university participating in the Trained Peers Program over the period of a semester) 
The concept of Trained Peers emerged in response to the rise in student energy toward mental health on college and university campuses. The program augments the existing benefits students can reap from our peer support community, by training a handful of students in an institution's population with mental health knowledge and ways to positively support their peers. 
Many institutions and counseling centers don't have the bandwidth or financial resources to train and advise peer educators, and so the program never gets off the ground or is even considered. The Trained Peers Program, which is offered as an add-on to the peer-to-peer community, is a time-efficient and cost-effective approach to meeting the student interest in mental health peer support. 
Togetherall Chief Clinical Officer, Dr. Ben Locke, noted,
Where I think Trained Peers provides a really good fit for counseling centers is that they often get requests from students who are looking for experiences in mental health, and often the answer is 'no,' but those same students could engage as a trained peer, get training and experience and supervision, and give back.
Below is a survey question asked of Trained Peers cohorts from Fall 2022: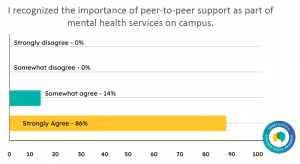 The Trained Peers Program brings together three threads of need: 
The student energy toward mental health on university and college campuses and a desire to gain practical experience in the mental health field

 

The need for colleges and universities to offer a high-quality educational experience that is low-effort, safe, and risk-managed to their keen or interested students

 

The need for "champion" peers on Togetherall enhancing the vibrancy of the online community and modeling positive peer support behavior for other Togetherall members

 
I was surprised at how many people – both Trained Peers and regular members – were willing to reach out to each other and offer either encouragement, compliments, or guidance. I learned that everyone on the platform shares the same goal, which is making the world a better place with peer support.

– Trained Peer from University of Houston Clear Lake
Learn more about the Togetherall Trained Peers Program.