A framework for promoting student mental wellbeing in higher education | Part I: The Continuum of Care and Togetherall
This three-part blog series will take a deeper dive into health and wellness strategies in higher education and how population-level peer support can be a solution in aiding the ever-growing demand for mental health resources.
Author Brittany Todd worked in higher education and student affairs for over a decade in various roles supporting student wellbeing. She led the health promotion and prevention programs at Texas Tech University from 2017 to 2022 and is a current member of the NASPA Strategies Wellbeing and Health Promotion Leadership Conference planning committee and the Higher Education Center for Alcohol and Drug Misuse Prevention and Recovery Training Advisory Committee. At Togetherall, Brittany supports colleges and universities to successfully integrate Togetherall's peer support community into their comprehensive approach to student wellbeing. 
---
Part I: The Continuum of Care and Togetherall
As mental health continues to be at the forefront of university presidents' priorities and concerns, coupled with consistent challenges meeting the exponential growth in the demand for individual counseling, administrators charged with addressing mental health challenges are under more pressure than ever to find ways to influence meaningful, population-level change in the wellbeing of students.
During my time as a director of an office responsible for health promotion and prevention education, I learned quickly that population-level impact involves a broad appraisal of comprehensive approaches to wellbeing. Because of the vast need for mental health support and the scarcity of resources, both personnel-wise and financially, the population-level approach allows every individual in a large community to receive the support they need without depleting the institution's manpower and funds.
I found myself drawing on the Continuum of Care Model to guide the process of surveying the programs and services the University community was already offering to students, while critically evaluating what gaps we needed to fill. When I first came across Togetherall, a digital peer-to-peer mental health support community, I discovered that what it offered could provide opportunities for college students along the Continuum of Care to address the variety of mental health challenges that they face.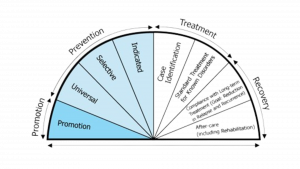 Promotion
These strategies are designed to create community conditions that support wellbeing and build resiliency skills to face life's unavoidable challenges. Throughout the course of my career working directly with college students, I found that, more than anything, students who were struggling wanted someone to listen to them, empathize with their situation, and show genuine care. They didn't always need a quick fix to a seemingly unsolvable problem or traumatic experience. They just wanted to talk to someone about what they experienced and feel less alone.
Through Togetherall, students are a part of a global network of members who promote building resilience and lifelong skills for well-being by doing just that – empathizing and listening. The clinically moderated environment within Togetherall models a community where mental health is prioritized and members can share these feelings in a safe environment, free from stigma and judgement.
After reading some of your posts, I just want to say to everyone on here, you are amazing! You are facing your struggles just by being here and that shows real resilience, and you should all be really proud!

Togetherall member
Prevention
As colleges and universities seek ways to provide college students opportunities to build skills that can help prevent a difficulty or setback from becoming something more serious, they often look for services that can be modified to fit the needs of students at all risk levels.
Providing 24/7 clinical oversight, moderation, and immediate intervention, when necessary, Togetherall's licensed clinicians (Wall Guides) are always monitoring interactions to assess and manage risk. 40% of the Togetherall community has engaged with a Wall Guide in some type of interaction, indicating their critical presence in a role of prevention.
Togetherall also offers online courses and support articles. These self-paced courses are universally appropriate as a primary prevention tool; helping any student learn more about a topic to build skills that could prevent negative impacts. They are also appropriate for at-risk subpopulations or students who have just begun experiencing some early warning signs.
Using this platform lowered my anxiety and increased my confidence and self-esteem. It helped me further develop my sense of self. It also increased empathy and my sense of responsibility for the welfare of others, as you'll see that so many of us are going through adversity and challenges. There's a common thread that seems to be entwined through each of us on here.

Togetherall member
Treatment
Recent survey data indicates that nearly 75% of college students report moderate or severe psychological distress and over 60% of college students meet criteria for one or more mental health problem. With this data in mind, colleges and universities are under intense pressure to assess, diagnose, and treat the mental health challenges of their student population. Togetherall can easily help support the treatment initiatives that are in place at a college or university by providing peer support between counseling sessions or through the self-paced courses that are available to help guide a student's journey. Togetherall's clinically developed and moderated assessment tools can help validate a student's struggles while licensed mental health professionals within the digital platform will point them toward professional supports available at their college or university.
Recovery
Current research on peer support for mental health shows some evidence of increased hope, recovery, and empowerment, among other improvements. Through Togetherall, peer support is anonymous, and students engaged in long-term treatment or recovery can interact with others who have experienced similar lived experiences and diagnoses without stigma.  
I appreciate your reminder that we can do it. I feel that sometimes myself along with others forget that we have the ability to complete what we put our minds to. It may be difficult at times but we can get there little by little. Small reminders like this throughout weeks can help encourage others, or even life their spirits. Thank you for the great post and reminder.

Togetherall member
---
See how Togetherall can support your people
Togetherall is committed to supporting our members' mental health by providing a convenient, accessible place for people to connect anonymously about lived experiences. 53% of surveyed members cited anonymity as a main reason to join Togetherall and 47% had said our 24/7 accessibility was a primary factor.
To learn more about how your community can benefit from digital peer support, book a demo with one of our team.
---
See Part II of the blog series: Health promoting campuses and the collective impact framework
See Part III of the blog series: Scaling peer support program through Togetherall's Trained Peers Program