The Power of Community: How Togetherall's Peer-to-Peer Support Goes One Step Further with Trained Peers
In early 2022, Togetherall reached its next milestone in a population approach to mental health: its Trained Peers program, which provides students a twofold opportunity to gain training in digital mental health services early in their career, and to make a difference by giving back to peers in need of mental health support.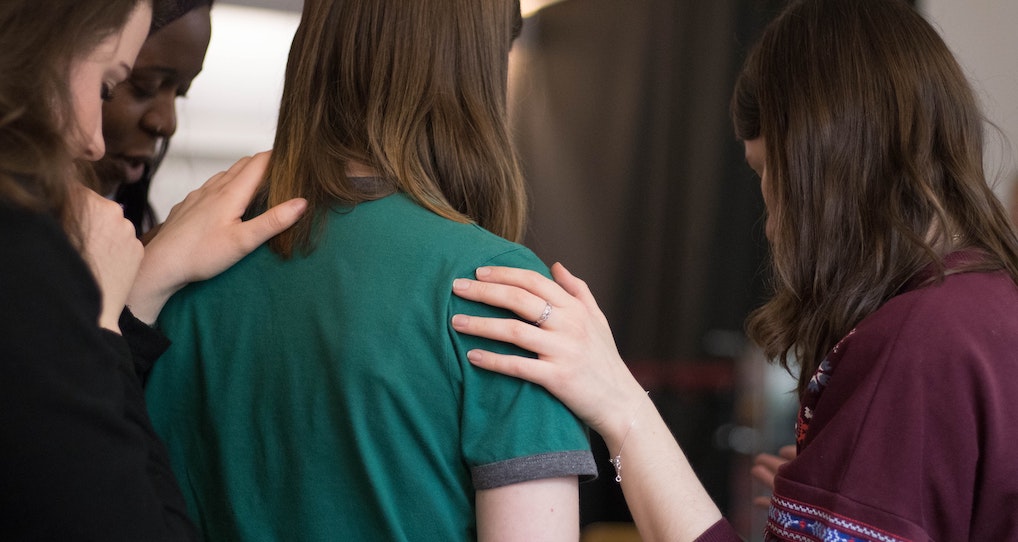 Stepping forward and giving back
The Trained Peers program was created in response to student's growing desire to prioritize mental health at their institutions.
"This program is designed for people who want to come in and give back to the community today,'" said Ben Locke, Ph. D – Chief Clinical Officer for Togetherall, who has led the program since its inception.
The Trained Peers program, according to Locke, is based on the research showing that peer-to-peer mental health support is already effective – individuals from diverse backgrounds are interacting, sharing, and supporting daily – with the goal of elevating and improving those interactions.
"Where I think Trained Peers provides a really good fit for counseling centers is that they often get requests from students who are looking for experiences in mental health, and often the answer is 'no,' but those same students could engage as a trained peer, get training and experience and supervision, and give back," Locke explained.
"Trained Peers really represents an intersection of a bunch of different threads of need. Right now, there has been a resurgence of student energy around mental health, but also students wanting to give back."
Deeper connections: Who are trained peers, and what are the program benefits?
Trained peers are students who have received basic training in health skills, specialized training in the Togetherall platform, and regular round-table supervision sessions with Togetherall clinicians. With this training and clinical supervision in place, Togetherall Trained Peers can then provide mental health support to their peers at times that are convenient for them.
Locke explains that the three major threads of need/benefit include:
Institutions:
Institutions can say yes to student's mental health energy and advocacy while also providing students with access to valuable education in global digital mental health, valuable hands-on professional/transferable experience, and a safe outlet for peer-support activities.
All student activity is supervised and risk managed 24/7 by Togetherall's licensed clinicians.
Annually recurring model requiring almost no time from university staff
Regular reporting on student activity
"Trained Peers plugging into Togetherall is a turnkey solution for an institution because all the activities of those trained peers are monitored, they are risked managed, and those things are done by clinicians who are online and available 24/7. So, it essentially gives the student the experience they are looking for, the experience the institution would like to support, while removing concerns tied to risk management"

— Ben Locke – PH.D
Watch the video below to hear more about how Togetherall Trained Peers can help universities meet the mental health needs of their students.
Students:
Students can channel their passion for mental health and peer-support/counseling in a cutting-edge, global digital mental health platform that promotes and facilitates advocacy for mental health concerns.
Receive valuable professional training, ongoing supervision, and real-world experience in a digital mental health work environment.
Learn how to use personal lived experiences and natural supportive instincts to be more effective in supporting others.
Access to professional development trainings in the digital mental health space, with topics such as supporting indigenous, LGBTQ+, and BIPOC populations.
Receive a verifiable digital credential as a "Togetherall Trained Peer" for professional use on LinkedIn or in resumes
Peer Community:
Trained Peers spend dedicated time each week actively providing enhanced and supervised support to other members in need, creating a more vibrant, diverse, inclusive, and supportive environment
"Having peers who are motivated to be there, who want the training, and want the experience, enables them to jump into the community and make a difference," Locke said.
The power of shared experience
Locke emphasized the societal challenge of not having enough professional resources (i.e., psychologists, social workers, psychiatrists) to meet the current demand for services, and that there's true value in leveraging peer-to-peer support to help mitigate this challenge.
"There are so many natural support systems that are available to use, one of the challenging side effects about our focus on identifying and referring people in distress to professional services, is that we have kind of devalued the natural support systems and natural avenues of getting support," he said.
"So, one thing I really wish for people to begin thinking about and maybe swinging the pendulum the other way is: when you're feeling in distress – pause for a second and think about 'how can I engage with peers who have gone through this before?'"
The power of community: a new program energizing students
In a pre-survey, students interested in becoming a trained peer expressed their excitement for the potential of the program. While many respondents cited having the opportunity to offer peer support as their main motivator to join, others also said that community support is the future of mental healthcare. 85% of participants in the survey were encouraged to become a trained peer to increase their confidence in supporting others and 92% of respondents believe that peer-to-peer support is an important part of mental health.
"I'm really excited to contribute my listening ear to the many people that are looking for support and encouragement. This program has such a great mission and I'm so glad I get to be a part of this journey!"

– Anonymous Trained Peer Respondent   
And as the program came to fruition, that same excitement became evident in how these trained peers were interacting with individuals on the Togetherall platform.
Another trained peer stated:
"This is my first real experience with anything mental health related, and it has helped me come out of my shell. When I first started responding to posts, I felt a lot of pressure to give the best advice which prevented me from answering a lot of posts. As I continue in the program, I've learned that sometimes it's not about giving the best advice it's about empathizing with the user and showing them that you care and that they're not alone. My favorite part of working as a Trained Peer on Togetherall is when I get to see posts from the same user progressing in their journeys."
"I was really amazed at some of [the inaugural trained peer] responses," said Dr. Locke.
"They were compassionate, normalizing, validating, and just full of warmth and encouragement. For me, it just really clicked that this is part of the solution – bringing together both of those needs: people seeking support and people really wanting to be part of that supportive environment where they can really make a difference, especially in a digital environment."
Watch the video below to learn about how trained peers reacted to the program.
Find your community with Togetherall  
Togetherall is a 24/7 clinically moderated peer support community. For 15+ years, we have provided a safe online community that empowers students to give and receive support for the full range of mental health concerns, conveniently and anonymously.
To learn more about Togetherall, and our Trained Peers program, watch our demo or make an appointment to speak to an expert