The benefits, journey, and success of Togetherall's Trained Peers Program
How Trained Peers can help your institution's population thrive online and on-campus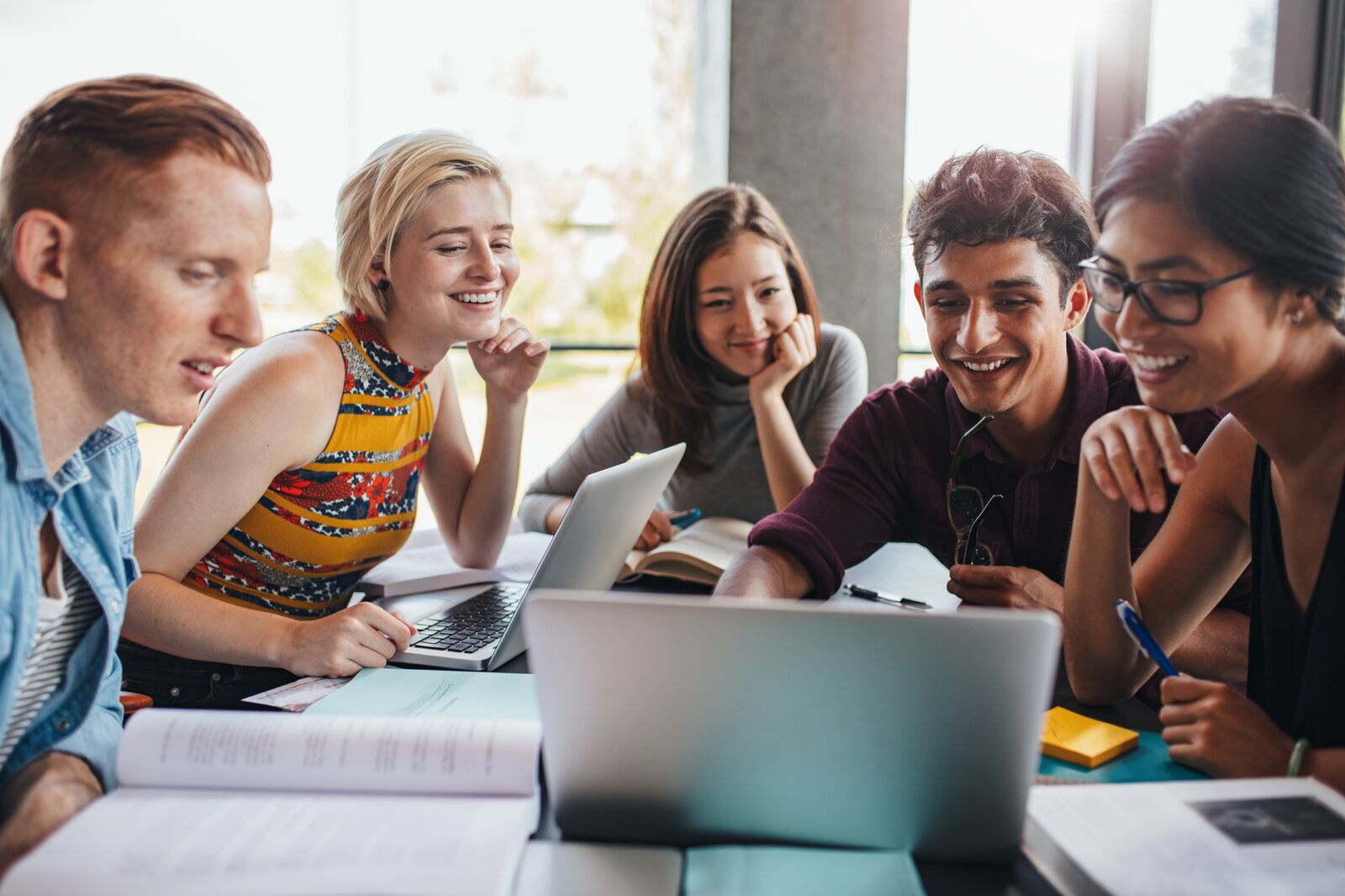 For more than 15 years, Togetherall has provided and continues to provide a safe, anonymous space for students to give and receive mental health support on our 24/7 clinically moderated platform. In the Spring of 2022, Togetherall launched a pilot program called Trained Peers. Since then, the program has launched three additional cohorts that have increased the vibrancy of the Togetherall community, and we look forward to continuing to grow the initiative. Below we take a deeper dive into our first two cohorts of Trained Peers.
The concept of Trained Peers emerged in response to the rise in student energy toward mental health on university and college campuses. The program augments the existing benefits students can reap from our peer support community, by training a handful of students in an institution's population with mental health knowledge and ways to positively support their peers.
The Trained Peers program brings together three threads of need:
The student energy toward mental health on university and college campuses and a desire to gain practical experience in the mental health field
The need for colleges and universities to offer a high-quality educational experience that is low-effort, safe, and risk-managed to their keen or interested students
The need for "champion" peers on Togetherall enhancing the vibrancy of the online community and modeling positive peer support behavior for other Togetherall members
In launching the Trained Peers Program, Togetherall worked with four higher educational institutions to pilot a program that addressed these separate needs: University of Arkansas, University of Michigan, University of Central Florida, and University of Maryland Baltimore County.
The structure was developed to merge self-paced, online peer support interactions in the Togetherall community with live, facilitated sessions for knowledge sharing, practice, and continued learning from Togetherall's senior clinical team via roundtable sessions.
The outcomes of the pilot were significant. The Trained Peers who completed the program requirements and earned their Trained Peer Certification impacted over 400 Togetherall members in the community over the 10 weeks through their peer support interactions. 100% of Trained Peers felt more felt more confident discussing topics related to mental health after completing the program and agreed that they received experience that could be applied in their career or profession.
See one Trained Peer tell her story here:
Continued success with Trained Peers: a newly scaled program
Since the initial launch and implementation of the program, Trained Peers has had continued success in bolstering Togetherall's existing benefits of a peer support community. We sought to scale the program to expand access to students from partner institutions across the US. Our Fall 2022 cohort included students from a diverse set of backgrounds, including social work students, varsity athletes, students in campus leadership positions, those completing internships at their campus counseling center, and students involved in mental health advocacy and volunteering.
In the newly scaled version of the program, Togetherall experimented with having Trained Peers complete at least one mental health advocacy activity to promote Togetherall in their communities. As Trained Peers dive deep into the Togetherall community and witness firsthand how positive peer support can impact members of the community, they become ideal advocates for sharing about the resource on campus. This addition proved successful and inspiring – some of our Trained Peers went above and beyond sharing about Togetherall, presenting at events, speaking in front of a group of friends or peers, or posting online through their social media platforms.
Outcomes from the Fall 2022 cohort of Trained Peers:
100% of Trained Peers who completed the program this Fall agree that they:

supported others going through something similar to what they have been through
reached and impacted people outside of their campus and community
learned about providing peer support in a digital mental health environment

100% of Trained Peers who completed the program this Fall agree that they:

gained experience to put on their resume as they pursue further education or career opportunities
obtained professional development, training, and mentorship from mental health professionals

100% of Trained Peers who completed the program this Fall feel more confident about:

providing support to others in an online setting
discussing topics related to mental health
using their lived experience to support others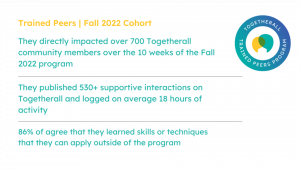 Here's what some of newest Trained Peers had to say about their experience in the program:
I loved this experience and recommend it to anyone who is pursuing any field within human services. Not only do you get to help others in need, but you are able to benefit professionally and personally. I was able to connect and relate to so many of the posts that it was beneficial to me in so many other ways than just getting the credentials.  

Trained Peer from Florida Gulf Coast University

---

In doing this program, I feel more confident about the role I can play in mental health advocacy but also in helping others who are dealing with mental health crises and those who are struggling. I feel like I have a great support system in the Togetherall clinician and feel like I have great resources to go back to.

Trained Peer from Loyola University Maryland

---

I was surprised at how many people – both Trained Peers and regular members – were willing to reach out to each other and offer either encouragement, compliments, or guidance. I learned that everyone on the platform shares the same goal, which is making the world a better place with peer support.

Trained Peer from University of Houston Clear Lake
---
We will continue to grow and nurture the Trained Peers Program, so stay tuned for updates on our website, LinkedIn, and Twitter pages.
Visit the Trained Peers webpage.
For more information about the Togetherall Trained Peers program, please contact us at: peers@togetherall.com