Improve student well-being through a peer-to-peer population approach to early intervention
James Lyda, Ph.D. discusses the benefits and key components of effective and risk-managed peer-to-peer support and how population approaches can serve as early intervention in student mental health.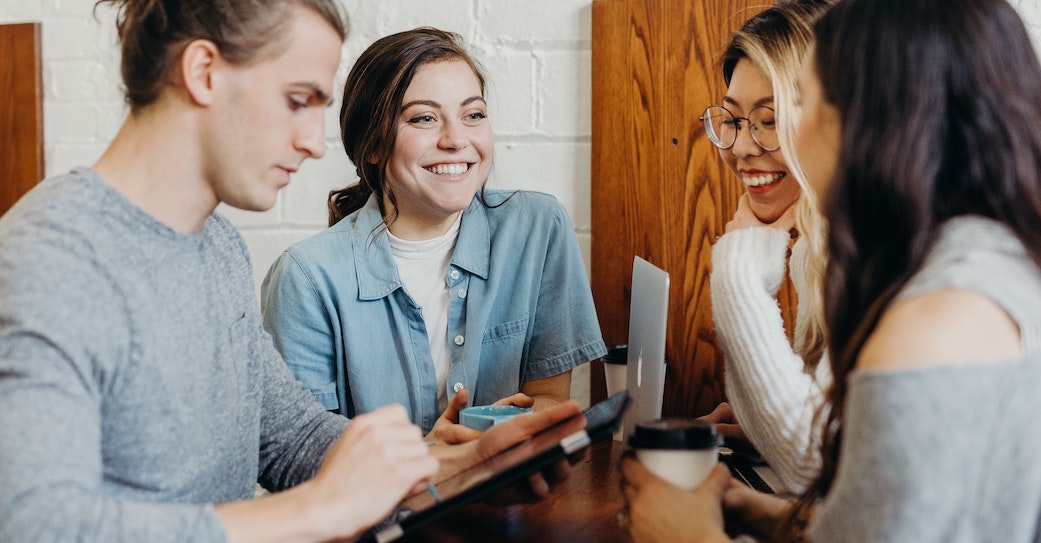 College is a time of tremendous opportunity for learning and growth, but it is also a time that many students are faced with mental health challenges that hinder their ability to achieve their full potential. Institutions of higher learning are grappling with how to best help students achieve and maintain well-being despite this challenging context.
College students report rising levels of anxiety, depression, and lifetime experience of trauma (Center for Collegiate Mental Health's Annual Report, 2020); 55% of students report feeling hopeless, 87% report feeling overwhelmed, and 65% say they are lonely (American College Health Association, 2019); Age 17 to 24 is a peak developmental period for the onset of mental disorders (McGorry, Purcell, Goldstone and Amminger, 2011); and "mental health of students" is the pressing issue cited most frequently by university presidents (American Council on Education, 2021).
The World Health Organization (WHO) declared that prevention and early treatment of mental health problems in college students is a key public health priority because college students are the future social capital of society (Cuijpers et al., 2021, p 2).
Early intervention is central to a population approach to mental health
According to the Centers for Disease Control and Prevention (CDC), most behavioral health efforts in the U.S. use a one-on-one approach with individuals who meet the criteria for a diagnosis, drastically limiting the number of people who receive care.
The CDC recommends instead a population health approach that addresses optimal behavioral health and wellness across a continuum of need and aimed at larger groups of people. Ideally, this approach promotes holistic and proactive intervention before individuals need clinical services, with the goal being behavioral wellness and not just the absence of psychopathology (Evans and Bufka, 2020; Galanek and Bufka, 2020).
When a student engages with a prosocial clinically moderated digital community instead of social media and open forums that may contribute to poor mental health, this type of participation can cultivate and maintain emotional well-being. If students find and use this type of support in a proactive way that encourages wellness, there are improved outcomes at many levels: for individual students, for institutions providing healthcare, and at the societal level.
The benefits of early intervention in a population health approach include reduced stress for both the students and the people who care about them; increased ability of students to learn, persist through school, and graduate (Douce and Keeling, 2014, p. 1); and the prevention of more serious symptoms, reducing the cost of care overall (National Council for Mental Wellbeing, 2021).
Characteristics of effective early intervention using peer-to-peer support
Given the impressive benefits of early intervention, it's advisable to make early intervention a priority in any educational institution's menu of services to improve student health and well-being. Once a college or university decides to offer early intervention services, the next challenges are to choose ways to offer services that are inclusive, community-based, accessible, anonymous, and safe. Peer-to-peer digital platforms excel in these areas and have demonstrated effectiveness in early intervention (Alvarez-Jimenez et al., 2018).
Community
When students give and receive support to each other, it cultivates a sense of belonging. This is important because research suggests that feelings of belonging relate positively to students' mental health and well-being (Wilson and Liss, 2020). Participation in the community gives students a safe space to process emotions with others who share similar experiences. From an interpersonal perspective, both help-seekers and help-givers benefit from the interactions. Reciprocity (where students shift roles between giving and receiving help) is empowering for students (Repper and Carter, 2011).
Inclusivity
Students are more likely to first go to another student for help than to staff or faculty (Pfeiffer et al., 2011). Early intervention is even more critical for BIPOC and LGBTQIA+ students, who consistently report higher support needs while often having difficulty connecting to others who share their experiences.
A 2022 survey found Black and Latinx students, transgender students, LGBTQIA+ students, and first-generation college students are all especially likely to call a shared identity or experience in a peer counselor "very important." (Mary Christie Institute and Born This Way Foundation, 2022).
Accessibility
Peer-to-peer models, when added to current student support services, can significantly improve the accessibility and convenience of mental health support (Waite, 2021). Early intervention as part of a holistic population approach to mental health normalizes a full range of human experience, including distress and emotional pain, and elevates the role of natural and readily accessible support systems.
Peer-to-peer digital platforms can provide a space for many participants simultaneously. Since students are often online and on their smart devices (Galanek, Gierdowski and Brooks, 2018), offering an online community "meets students where they live." Students can access services from anywhere at any time, enabling earlier intervention than would otherwise be possible. This is especially important when students are waiting to access other campus services or are between appointments.
Anonymity
 When students can use online or app-based formats anonymously, it can reduce stigma and remove a substantial barrier to help-seeking (Neal et al., 2011). Participants credit anonymity for reducing their fear of judgment, increasing the probability of participation. For example, 64% of Togetherall users said the anonymous format helps them feel sufficiently safe to share thoughts and feelings.
Safety. Peer-to-peer digital platforms are a safe way to provide early intervention when they incorporate a safety net of moderation through licensed clinicians and a crisis and emergency escalation protocol. It is important to strike the balance between students feeling empowered to give and receive support from their peers and trusting the security of knowing that there are professionals who will step in when the circumstances require it.
How Togetherall works to support students in an effective and safe peer-to-peer community
Togetherall offers an anonymous, professionally monitored, risk-managed, digital peer-to-peer community. Students are engaged with other students who share similar experiences in a judgment-free space. Licensed clinicians oversee the community 24/7 and use crisis and escalation processes when needed to ensure the safety of student participants. The community platform can be integrated into an evidence-based stepped care approach to offer a full continuum of holistic support and reach larger populations of students.
Reported Benefits. Students surveyed about their participation in the Togetherall community described these outcomes:
93% experienced improvement to their well-being.
80% said they felt less isolated.
70% joined because of its immediate access.
To learn more about how Togetherall integrates with and provides cost-effective solutions to existing campus counseling models to extend your reach, visit www.togetherall.com or sign up for a demo.