Mental health for all – World Mental Health Day 2020
The theme for this year's World Mental Health Day is 'mental health for all.'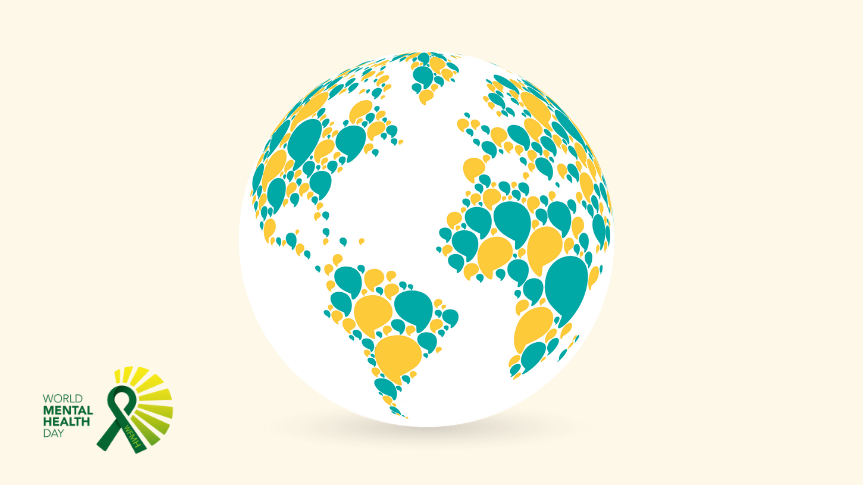 In a year, when everyone across the world has been impacted, either directly or indirectly, by so much anxiety, disruption and isolation, we should think universally about approaches to supporting mental health – something all of us must manage, together.   
'Mental health for all' means greater investment and greater access, so we achieve a level of parity where mental health is just as important in universal health coverage. It means we must find better, scalable ways to support our mental health at a time when people are struggling more than ever. And it means that we acknowledge that mental health is something we must all attend to, not just a concern for those who actively seek help.  
World Mental Health Day is a single day in our calendar. It is an opportunity to bring our voices together so that they become louder. It is an opportunity to share our experiences and collaborate on innovative ways to support each other, together. We do this because we know that looking after our mental health, and seeking support when we are struggling, is something we must do every day of the year. 
Every day, and every hour of every day, Togetherall's community is active and providing a place for its members to share how they feel, beat isolation and work through common mental health concerns.  
That's what we're about. We bring people together to support each other, through bad times and good. We facilitate people helping each other, because having instant access to a safe and welcoming community, day or night, can make all the difference  
Since 2008 we have been working to build our vibrant community. But this year, we changed our name to Togetherall.  
As well as reflecting that our community brings people together, we looked for a name to reflect that our community is a place of safety for all people, without fear of judgment.  
We wanted a name that communicates a message of belonging to all, regardless of ability, age, ethnicity, gender identity or expression, national origin, race, religious belief, sex, or sexual orientation. Because mental health is for all.  
Our name also reflects our core aim to improve mental health outcomes and promote wellbeing across large groups and populations of online members. Hundreds of studies have looked at the powerful role of social support in mental health. By offering a community that helps people to cope, feel better and thrive, more people can have access to support they might need. 
In a year when so many people have struggled, having instant access, free–to–use support, available to as many people as possible, is more powerful than ever. That's why we are proud to contribute to widening support access, with our safe, 24-hour, moderated and clinically managed community. 
Mental health is for all. It requires clinically robust support pathways open to all.  
Not surprisingly, during the events of this year we've seen our community grow across the UK, Canada and the US, commissioned by over 200health bodies, education institutions, government departments and corporate organizations. In the last year, over 125,000 people have supported each other online through our site.  
Looking ahead, we will continue to build our community. Our long-term commitment to 'mental health for all', is clear – it's in our name.