LGBTQ+ Mental Health: The Power of Community as a Support Tool
What could lead to mental health challenges for the LGBTQ+ community?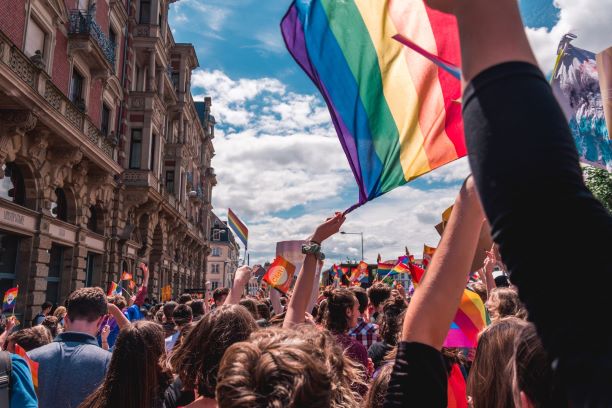 For pride month every year, many organizations don a rainbow-bright colour scheme – logos, social media, and even products undergo a month-long transformation.
While the show of solidarity reflects how far we've come in championing marginalized groups, it sometimes leads to criticism that issues faced by the LGBTQ+ community do not receive enough attention year-round. Among the most prominent (and often misunderstood) are challenges related to the mental health of LGBTQ+ people.
Mental health issues such as depression, anxiety, and substance abuse are alarmingly prevalent, affecting the community disproportionately. A 2016 survey by Youth Chances found that 44% of the LGBTQ+ respondents reported suicidal thoughts, compared to 26% of those who identified as heterosexual and cisgender.
There is an often-made assumption that mental health issues are somehow inherently part of the LGBTQ+ experience. However, challenges such as depression and anxiety are often born out of, and exacerbated by, external and societal factors – namely the experience of being 'othered' in a world that is not always accepting.
Here are some of the commonly discussed themes that our professionally trained Wall Guides have seen surrounding LGBTQ+ issues in the Togetherall community:
1. Confusion – Confusion around sexuality and gender identity can lead to fear of lack of acceptance and risk of violence. Living inauthentically can lower self-esteem and confidence, also leading to increased risk of depression and anxiety.
2. Coming out – Coming out is an important part of the LGBTQ+ experience, and can be distressing to some, regardless of age, experience or level of confidence. This distress can be heightened in older generations who were raised in a time where identifying as non-heterosexual was illegal. The ONS shared that, in 2018, only 6.7% of men and 7.4% of women who identified as LGB were aged 65 years and over.
The feeling of 'coming out' is often misunderstood to take place 'once' but happens every time someone needs to explain their gender identity or sexuality in conversation. This can extend beyond just family, friends and loved ones to healthcare providers, employers and community organizations, which can bring back these feelings of fear of rejection and distress time and time again. It's lifelong.
3. Isolation – Lockdown and dealing with the COVID-19 pandemic posed special challenges for those already marginalized groups, such as the LGBTQ+ community. In fact, the BBC reported on a considerable rise in such individuals seeking urgent help for suicide.
For young people especially who hadn't yet come out and weren't able to attend school or university, having to spend months in lockdown in family situations or communities that weren't that accepting contributed to increased experience of depression, anxiety, and general loneliness.
4. Discrimination and violence – In day-to-day life, many people feel they are defined by their sexuality first, rather this forming part of their identity. Togetherall members have also shared how they've drawn criticism for drawing 'attention' to their sexuality and equal rights.
Hate crimes are a major risk factor that leads to mental health issues; fear for safety and life could mean serious illness.
The experience of being LGBTQ+ is often quite nuanced. Although there are some common challenges faced across the community as a whole, subgroups and intersectional minorities especially deal with incredibly personal and individual issues pertaining to their identity and sexuality, from dysmorphia to disownment or sexual violence.
How can peer-to-peer support improve LGBTQ+ mental health?
Empathy and validation
Being able to connect with people facing similar challenges can be really beneficial to isolated individuals who are looking to understand more about their experience and how they can live a more authentic life; boosted self-esteem and confidence can be a result.
On the Togetherall platform, the professionally trained Wall Guides consistently find that when LGBTQ+ members share a concern or experience, other members – regardless of their gender identity or sexuality – will comment on posts to share support and great advice to help them along. Almost 5 (4.97%) of Togetherall registrants identify as gender-neutral, non-binary, undisclosed, and transgender.
Going beyond stigmas
Both self-perpetuated and societal stigmas still affect a lot of LGBTQ+ people when looking to get mental health support. The Trevor Project reported a lack of trust of therapists and counsellors as a barrier to mental health care, so being among peers who have had the same experiences could also help people to seek further assistance should they need it.
On the Togetherall platform, anonymity allows members to share without stigma, providing a safe space to explore feelings which is important on their mental health journey. As another layer of safety, Wall Guides actively manage any problematic language or discussions quickly and efficiently, ensuring that the community remains inclusive, safe and welcoming to all.
Togetherall works to support the LGBTQ+ community in pride month and beyond
While society as a whole makes progress on education and acceptance around LGBTQ+ issues, acknowledging the common mental health challenges posed to the community and providing peer-to-peer support can help reduce the likelihood of developing more severe conditions.
Togetherall has created a safe and supportive community for LGBTQ+ to explore specific issues, share their feelings and support others without stigma or generalization. With Togetherall, you can support your community by welcoming them to ours.
Click here to book a demo with Togetherall.