Togetherall Talks Podcast speaks with Harvard Medical School's Dr. John Naslund
Host Sam Stone talks with John Naslund, Ph.D., Instructor in Global Health and Social Medicine at Harvard Medical School, about how digital methods can be used to help manage and support individuals with mental illness.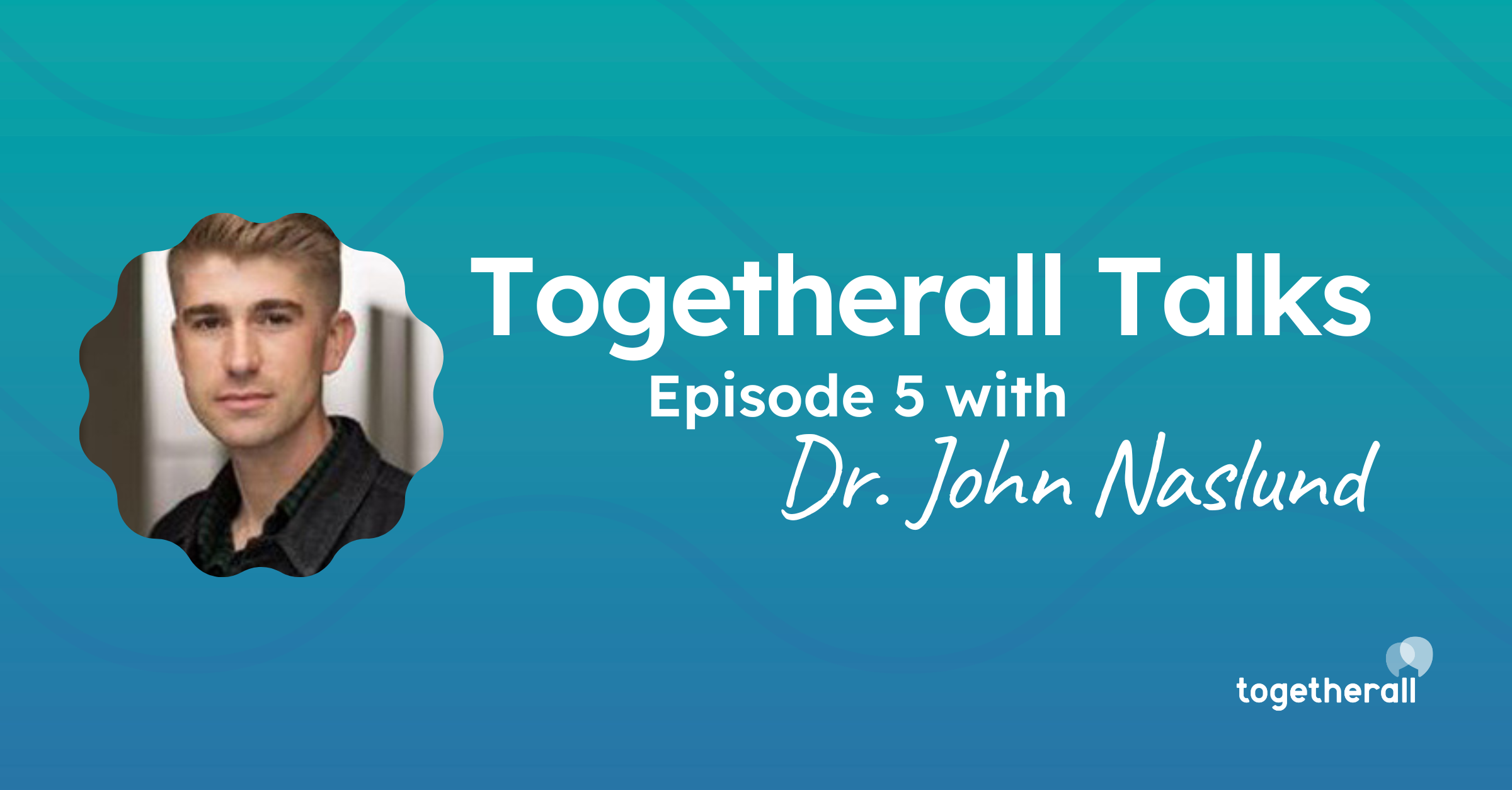 In the latest episode of Togetherall Talks, we hear from John Naslund Ph.D., esteemed Instructor in Global Health and Social Medicine at Harvard Medical School.  
Dr. Naslund has expertise in research methodology, implementation science, social disparities research, and digital mental health. His work seeks to address early mortality that disproportionately impacts individuals living with serious mental illnesses worldwide, and to reduce the global treatment gap for mental disorders using novel digital methods. Dr. Naslund has led numerous projects that leverage mobile technologies, social media networks, and online big data to develop, evaluate, and implement digital interventions aimed at treating and preventing mental disorders. 
More recently, Dr. Naslund collaborated on a research project with Togetherall, producing a paper, The role of moderators in online mental health communities. We were thrilled to be able to speak with Dr. Naslund again, and this time take a deeper dive into his other professional projects and personal views on mental health and illness in a digital world. 
In this episode, Dr. Naslund discusses what first interested him in the field of mental health and the harsh disparities that often dictate whether and how diagnoses are made. In his discussion with Sam, he speaks to how an individual's connection to family, social circles, and a host of other cultural/societal factors affect treatment and ultimately that individual's path forward. Dr. Naslund said, 
I became really fascinated by the complex relationship of an individual's mental health and their social surroundings, their social relationships, their connections with their family, their community, and the areas in which they live. From there I became more interested in how we can use interventions to help address these challenges and make services more widely available.
Dr. Naslund goes on to explore how digital mental health supports, like digital peer-to-peer support communities, are essential in making mental healthcare more accessible to everyone, both logistically and in lowering barriers attached to stigma and judgment in seeking support. 
Listen to the episode now: 
---
About Togetherall Talks
This is the fifth episode in the Togetherall Talks series, in which our presenter, Sam Stone, chats with experts, advocates, and her student peers about the benefits of sharing experiences and the power that stigma-free conversations about mental health can have. To listen to the previous episode featuring Healthy Minds Network's Sarah Lipson, click here.
See how Togetherall can help your people
Togetherall draws on the power of peers to help people better understand and cope with how they're feeling. Available 24/7 with round-the-clock clinical oversight, we have created a safe and vibrant space for our members to both give and receive support for all things mental health.
To find out how we can support your students, residents, employees, and communities, talk with our team.