University of Pittsburgh: Successfully driving student engagement in scalable, digital peer support
Urban, diverse university expands mental health offerings by providing 24/7 clinically moderated online peer support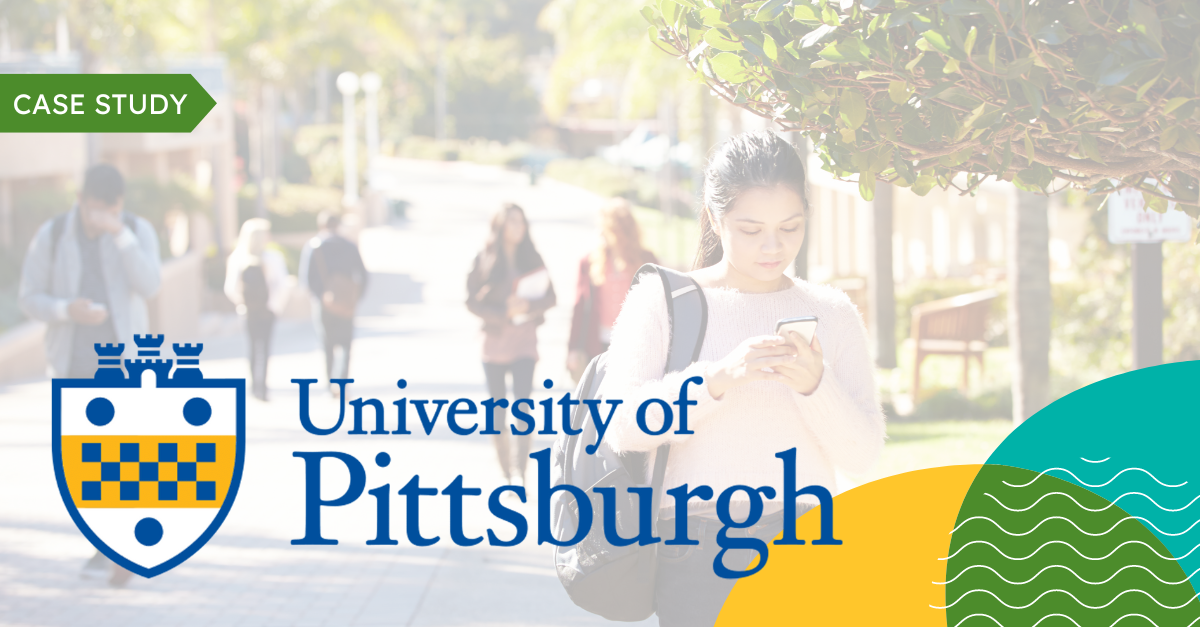 Many colleges and universities have adopted a more intensive approach to mental health support for their students in recent years. It's no secret that the demand for support has risen and continues to rise, and that we must look outside the box in order to successfully address this ongoing challenge, i.e., integrating other services alongside traditional treatments. The University of Pittsburgh exemplifies this approach by adding scalable peer support to their mental health support services.  
Based in the heart of Pittsburgh, Pennsylvania, the University of Pittsburgh, commonly known as "Pitt", is home to nearly 30,000 students. Approximately 36% of Pitt's student population identify as Black, Indigenous, or a Person of Color (BIPOC), while 57% are female. Effectively communicating to such a large, diverse population on an urban campus is no easy task, especially when it comes to promoting mental health services. Pitt's University Counseling Center (UCC) has worked hard to develop strategies to engage students and normalize help-seeking around mental health. 
While they offer an extensive and diverse array of mental health supports on campus, both digitally and in person, an average of only 10% of students utilize these services – a statistic in line with other colleges and universities. In efforts to expand their reach, Pitt decided to add peer support to their suite of options. 
"While stigma is still a part of the greater culture, the University of Pittsburgh – specifically the University Counseling Center – aims to destigmatize mental health and increase access to appropriate support," said Bernadette Smith, LPC, Associate Director, Outreach, UCC.
The 2022-23 academic year was identified as The Year of Emotional Wellbeing by the Provost Ann Cudd; she wrote, 'The choice of this theme offers an opportunity to engage collectively with a focus on restoring and enhancing our emotional wellbeing.'  Smith said,
"This theme certainly increased awareness of mental health concerns and resources available on campus. The University Counseling Center's Outreach team continues to focus on increasing awareness, decreasing stigma, and improving access to services."
Why digital peer support? 
Pitt's UCC offers a variety of existing services including drop-in appointments, individual counseling, group counseling, relationship/couples counseling, care coordination, bridge appointments, and specialized services (i.e., DBT-based program). All the services can be accessed virtually or in-person. The UCC also offers in-person/virtual workshops, individual consultations, as well as access to an online self-help app and an after-hours support line. Additionally, the UCC's HEART Clinicians partner with University Police in responding to mental health crisis calls on and near campus. 
Smith said,
"While the UCC offers a wide range of services and resources for students, traditional counseling services may not always be the most effective healing tool. For many communities, connection and belonging are key – and this cannot always be achieved in a therapy office. So, the UCC had to consider additional ways to support students that are both accessible and effective. One of those methods is peer-to-peer support. We recognize the importance of feeling connected and understood, of having someone say, 'I get it and I am here for you.' Togetherall allows students to connect with one another, share their unique experiences and receive support from peers in a safe way." 
Togetherall's peer-to-peer support community is a scalable, population-level mental health service. As a global, digital community that's accessible 24/7, it's applicable to a population of any size. Users are anonymous, an element that lowers the barrier of stigma and fear of judgement. The community is overseen by licensed clinicians round-the-clock – that is, real, live, clinicians monitoring the platform for high-risk language, responding when necessary and intervening if/when the need arises.  
Regarding the 24/7 clinical moderation of Togetherall's community, Smith said,
"This was a major factor in our decision-making process, as we wanted to ensure the safety of our student population." 
Smith went on to say,
"We recognize that mental health stigma may prevent various communities, identities, and individuals for reaching out for professional mental health concerns. In those cases, individuals who are experiencing stress and/or challenges are likely to reach out to friends as the first line of support. For this reason, we wanted to provide a more formal space for students to seek support; and we wanted to ensure that this space also had safety measurements in place should students experience safety concerns." 
The clinical moderation component of Togetherall's community differentiates us from other peer support services. Risk management is crucial in facilitating positive mental health support and is one of the pillars of Togetherall's service. Students often turn to unmoderated platforms, like social media, to express themselves, and this can be a dangerous path to take. Studies show that unmonitored social media use can lead to depression, body image concerns, self-esteem issues, social anxiety, and other problems (APA, 2021). Togetherall provides a safe space for students to give and get support in a risk-managed environment. 
Engaging students in Togetherall on campus 
Once Pitt signed on with Togetherall, the next step was essential: promotion of Togetherall and engaging students in the service. Pitt's approach has been exemplary, most notably because they've been goal-oriented in how many students they want to reach.  
Here's how Pitt has spread awareness on campus: 
The UCC has worked with The University of Pittsburgh's Center for Teaching and Learning to

promote Togetherall through messaging on their learning management system (LMS)

. Through the LMS, students received brief information about Togetherall and a link to register. Thus far, messages were shared during the first week of implementation, the last week of classes, and finals week. They hope to continue to share these messages at the beginning, middle, and end of each semester.

 

The UCC has worked with the Student Affairs Marketing and Communication department to ensure that information about Togetherall is shared across newsletters to both students and staff.

 

Information about Togetherall was also provided directly to other Student Affairs departments to be shared as a resource for students.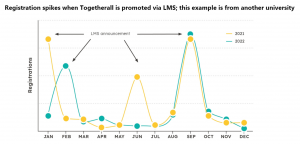 What other tools have they used to spread the word?   
During tabling events on campus, they have utilized printed materials to share with students about Togetherall. 

 

On the day they launched Togetherall on campus, they hosted a "Sweets for Signups" event in which students received a sweet treat after signing up for Togetherall. 

 

Information about Togetherall has been included in online orientation materials. 

 

The UCC is also working to utilize social media, specifically Instagram, to continue to spread the word throughout the academic year. 

 
Smith and her team also opted for Togetherall's Trained Peers Program, an add-on to our peer-to-peer support community. The program augments the existing benefits students can reap from our service by training a handful of students in an institution's population with mental health knowledge and ways to positively support their peers. Smith said,
"We wanted to participate in this program to provide an opportunity for students to receive education, training, and experience providing peer support." 
Smith outlined Pitt's goals for adoption:
"In the first year of implementation on our campus, we intend to measure our success by adoption and utilization rate. We hope to see at least a 2% adoption rate by February 2024. In terms of utilization, we hope that the number of active members is at least 50% of total registrations. Additionally, we will measure our success based on the number of individuals from minoritized communities who actively utilize the service, as these can be barriers that prevent members of these communities from seeking traditional mental health support and services. We aspire to create awareness and recognition among the campus communities about this service. We hope Togetherall can help provide another pillar within the support network we provide at Pitt." 
The goal-oriented and metrics-centric approach that Smith and her team have taken in implementing Togetherall on their campus is one that will make for success. Success is defined by who is signing onto the platform, as well as how many are signing on. Reaching traditionally underserved students and those who typically wouldn't seek help from a counselor, or seek help at all, is a hallmark of Togetherall's service. 
---
The above depicts the Clinical Load Index (CLI) calculator for the trajectory of Pitt's adoption engagement rate.  
We have used the CLI as a comparator to help evaluate the importance of building BOTH clinical capacity in the counseling/wellbeing office AND a population model that reaches a different set of students. 
Togetherall Chief Clinical Officer, Dr. Ben Locke, who is also a former Executive Director of CAPS at Penn State and the former Executive Director at the Center for Collegiate Mental Health (CCMH). While at the CCMH, Dr. Locke and his team created a calculation called the Clinical Load Index (CLI) to help us understand and evaluate the cost and reach of 1:1 counseling services in the counseling center.  
The CLI is a measure that can vary wildly, depending on the resources and the goals of the college/university when it comes to providing direct treatment services for student mental health. Specifically, it looks to identify how many students one clinician in the counseling center can see in a given year. 
---
About Togetherall   
To date, Togetherall is available to 4.6 million students worldwide at more than 450 colleges and universities. In recent survey data, the majority of respondents cited feelings of depression and anxiety as their reason for joining. More than one-third of surveyed students reported that Togetherall is the only mental health support they are using. Registrant data also reflected the diversity of students using Togetherall, with 53% identifying as Black, Indigenous, or a Person of Color (BIPOC), and 7% identifying as transgender or non-binary.         
If you are interested in offering safe and scalable ways to support your students' mental health, contact us to find out more about Togetherall's online community.