What is Neurodiversity?
We all experience and interact with the world in a way that makes sense to us. Neurodiversity highlights the idea that there's no one right way to think, learn, behave or feel.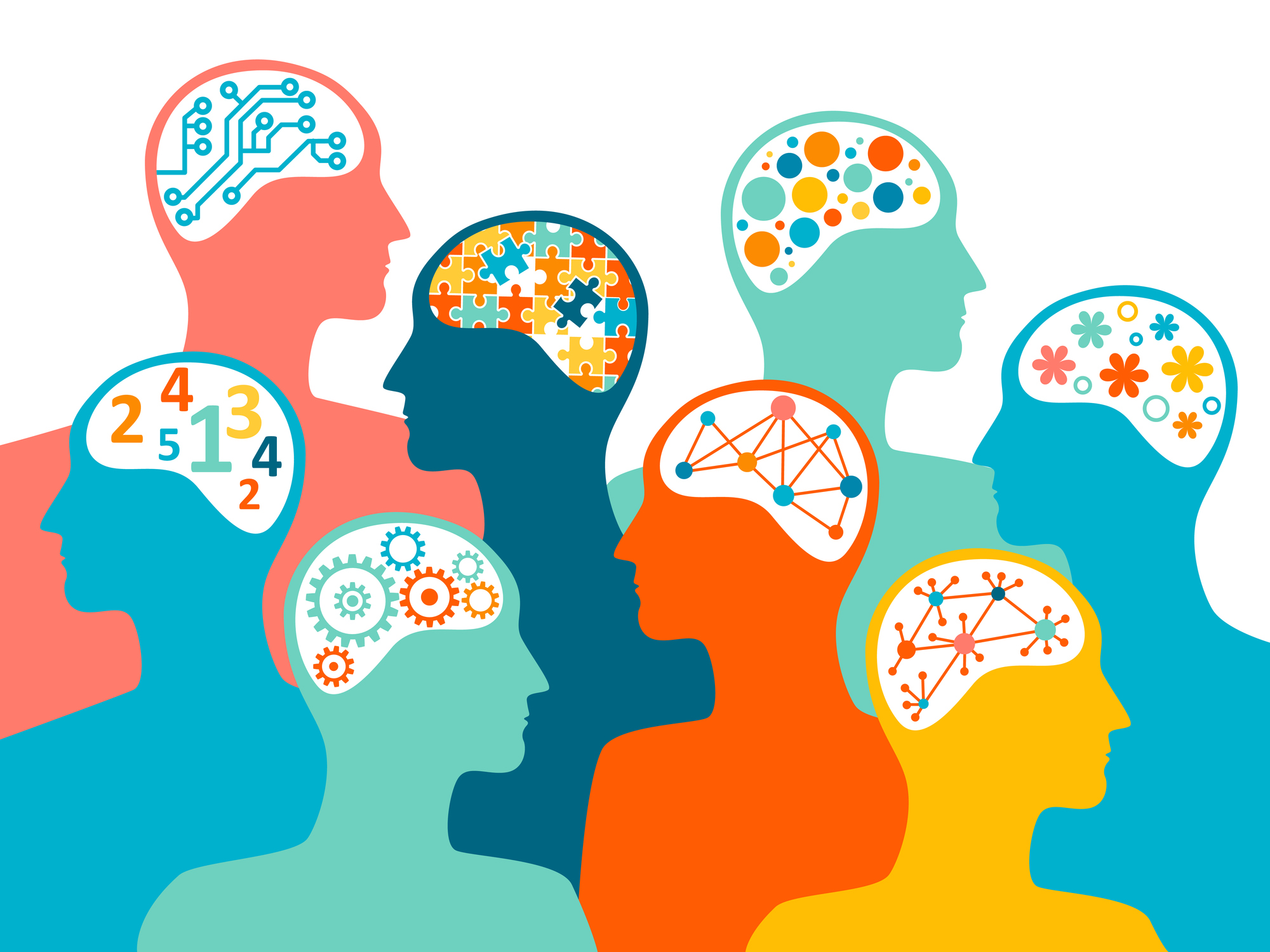 We all experience and interact with the world in a way that makes sense to us. Neurodiversity highlights the idea that there's no one right way to think, learn, behave or feel. Neurodiversity is used as a way to describe the different ways human brains work because there's no single definition of "normal" when it comes to the brain.  
Typically, neurodiversity has been used to describe autism spectrum disorder, as well as attention-deficit hyperactivity disorder (ADHD) or learning disabilities. But neurodiversity can include medical disorders, learning disabilities, and other conditions. Neurodiversity also includes many strengths, such as an ability to problem-solve, focus on complex tasks, and identify patterns. Some neurodiverse individuals struggle because the processes and systems in place don't allow them to show some of these strengths. 
According to the sociologist Judy Singer who coined the term neurodiversity in the 1990s, neurodiversity, "points to the fact that every human has a unique nervous system with a unique combination of abilities and needs." 
Neurodiversity conditions tend to be invisible, so neurodivergent individuals may feel an internal experience of being out of step with the world or feeling alone in their struggles. 
What conditions are considered neurodivergent?  
Neurodiversity can include autism spectrum disorder, attention-deficit hyperactivity disorder, dyslexia and more. Individuals who may have some of these conditions may not identify as neurodiverse, emphasizing that every person is allowed to identify how they wish in a way that makes sense to them. 
Ben Locke, Ph.D., Togetherall's Chief Clinical Officer encourages the use of a strengths-based model when discussing neurodiversity.  
"It can be easy for people to feel left out or different when they process the world differently from others. Sometimes it isn't just about having a neurodiverse experience but the ripple effects of that experience across the rest of your life. But the act of sharing your lived experiences and connecting with others allows individuals to experience validation and normalization, recognize their strengths, understand the strengths of others, and to create a sense of belonging and acceptance across diverse experiences." 
Where to go if you want to explore more about neurodiversity  
If you or someone you know thinks they may be neurodivergent, there are resources available to help find more information and the next steps. You can talk with your healthcare provider who can refer you to a professional who can help by providing more information in a way that works for you.  
You or someone you know may also connect with others in a safe space to seek more information and feel connected to others who may be experiencing similar things.  
At Togetherall, members are anonymous, and the platform is monitored 24/7 by mental health professionals, allowing for safety, openness, and a place to connect with others in a way that works for each individual and how they see the world.  
Globally, 20+ million people have access to Togetherall, creating a large, diverse, and active community. Members can quickly and easily find peers with shared lived experiences that can give them a sense of belonging along with coping skills and strategies.  
If you identify as neurodiverse, want to understand more, or know someone who is neurodiverse, the anonymous online Togetherall community is a safe space where you can share your experiences, ask questions, get advice and give comfort to others. You don't need to feel alone in your experiences.  
How to register and participate in the Togetherall community 
Join Togetherall; a safe, online & anonymous peer support community 
What to expect 
Togetherall is an anonymous peer support community that is monitored 24/7 by mental health professionals 

 

Similar to social media networks, members can post about their experiences in a feed, but unlike social media, Togetherall is anonymous and monitored 24/7 by mental health professionals to keep the community safe and inclusive.

 
How to register 
Register on togetherall.com with your specific access requirements (either your postal code, organization, or academic email address)

 

Activate your account through your email 

 

Answer a few questions about yourself

 

Create an anonymous username and password

 

Log in and start connecting with others

 
How to participate in community 
Log in at togetherall.com

 

Scroll the homepage to read others' posts

 

Click Community to join a Group based on a topic you're interested in

 

Click Courses to take a self-help course or read articles under Resources

 

Start connecting with others by anonymously sharing your experiences by clicking "create post" on the homepage

 
People think differently, which means we can also utilize different ways to feel better. With Togetherall, members can share their experiences and share community. 
Togetherall is a safe place for people to help people. Register for the anonymous online peer community today with your access parameters.