Togetherall wins Tech4Good award at Investor Allstars 2018
Togetherall, the digital mental health and well-being service, was presented with the Tech4Good award for its outstanding social impact mission at the Investor Allstars 2018 ceremony.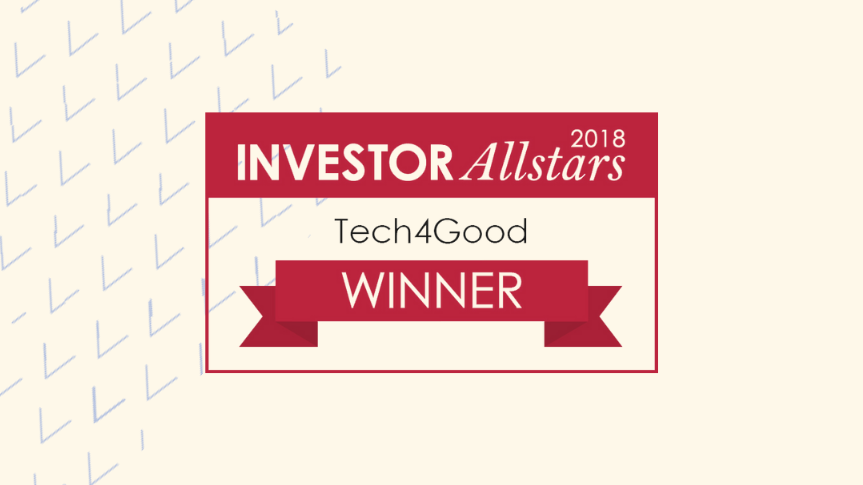 Now in its 16th year, the annual event celebrates the achievements of investors and entrepreneurs that are shaping the future growth and impact of the European digital economy.
Investor Allstars 2018 winner, Togetherall, received the Tech4Good award at the London ceremony for its founding mission to improve the mental health and well-being of the UK and beyond.
Being shortlisted for this award in 2017, and then announced as the winner this year is a phenomenal achievement for us, and one that we are extremely proud of. It is fantastic to be named alongside some of the most innovative companies in the technology sector that are shaping and changing the way that technology is used for the better. Our social mission is clear, we want to transform mental health services in the UK and beyond.

Liam Black, Exec Chair of Togetherall
Togetherall is active in helping shape policy that supports transformative models of healthcare through digital offerings. Its social mission is to transform mental health services in the UK, improving the well-being of thousands of people, with investment from Impact Ventures UK allowing the business to scale in activity and bring innovative solutions to reach even more people.
Togetherall is accessible to 15 million people in the UK and is widely commissioned across the NHS, employers, universities and the military. The service gives its users access to 24/7 professionally moderated online peer support and can provide online 1:1 therapy as part of its offering. Thus far, Togetherall has reported that 95% of users have seen overall improvements in their well-being.
Togetherall is the first digital mental health service to be registered by the CQC, and in 2016 received a coveted 'Good' rating. In addition, is influenced and evidenced-formed in alignment with NICE guidelines, enabling Togetherall's online therapy segment of the service to achieve outstanding recovery rates for depression and anxiety.