NHS expands veterans' mental health support through Togetherall and Dr Julian.
Digital mental health service providers partner to expand 1-2-1 therapy coverage for former military personnel.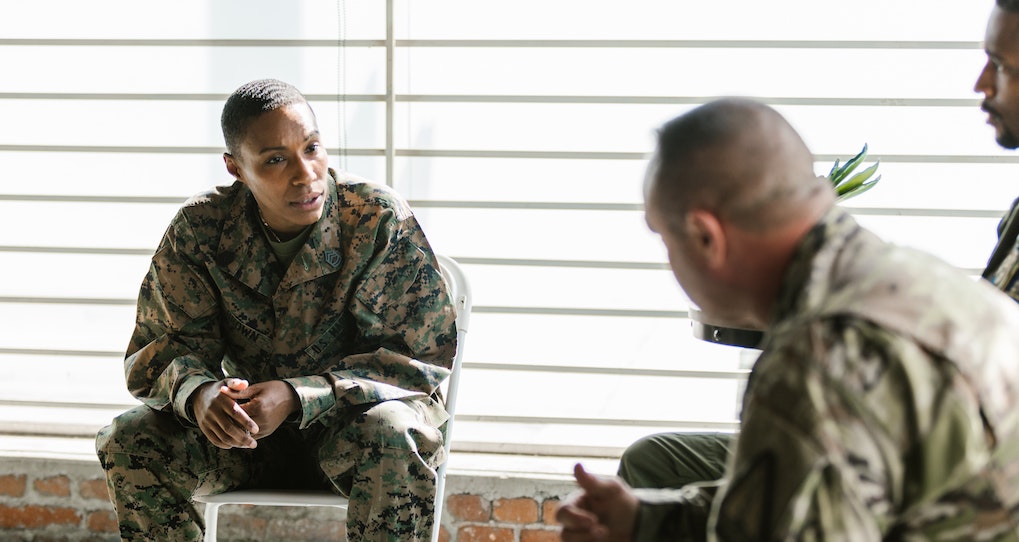 NHS England and NHS Improvement have commissioned Togetherall in partnership with digital therapy provider, Dr Julian, to provide online therapy to clients of NHS veteran support services.  
The move comes at a time of increasing pressure on existing mental health provision while the need for support among military service leavers and former personnel remains high.  
The newly available service for veterans, delivered by Dr Julian therapists and counsellors, will enhance Togetherall's longstanding work to support the UK armed forces community which began in 2010.  
For over a decade, Togetherall has been freely available to all serving personnel, reservists, veterans, and UK military families (aged 16+). It has supported over 15,000 members of the military community to-date and is commissioned jointly by NHS England and the Ministry of Defence. 
Togetherall is an anonymous space online providing instant support from peers and professionals as well as self-directed tools to learn about mental health and build resilience. The service is available 24 hours a day for individuals to share feelings, stories, and experiences with each other via a platform moderated and managed 24/7 by a team of mental health professionals and on-duty clinicians.  
In feedback to Togetherall, one armed forces member said that Togetherall "can be an easy first step for those that find it hard to access services or raise that they need help." 
NHS England together with NHS Improvement have now expanded Togetherall's support to include courses of one-to-one therapy to clients of Veterans' Mental Health Transition, Intervention and Liaison Services (TILs). Treatment will be delivered through the digital therapy provider, Dr Julian working in association with Togetherall.  
Togetherall made the decision to work alongside Dr Julian after an assessment of its experience and capability to provide Step 3 psychological CBT and Counselling therapy. 
Dr Julian is a well-established online therapy provider whose experienced therapists will now be available to eligible TILs clients who are referred into the service. Clients will be offered a minimum of eight online, remote video, audio, and instant message appointments. Dr Julian can provide inclusive access to therapists that meet specific cultural and language requirements as well as flexible appointments times.  
Speaking about the new partnership, Togetherall CEO Henry Jones said:   
"We're thrilled to be working alongside the team at Dr Julian to help expand the provision of support to veterans – a community we have been proudly supporting for over a decade. We sought an innovate partner with a strong clinical track record; this partnership, and the additional treatment on offer, will realise the powerful benefits of combining therapy with concurrent peer support." 
Dr Julian Nesbitt, Chief Executive Officer of Dr Julian Medical Group Limited, said:  
"We couldn't be more excited about our collaboration with Togetherall in order to support the veterans as part of OpCourage.   

"Togetherall is widely recognised as having built the best clinically managed online peer-to-peer mental health support platform on the market. Its award-winning organisation and proprietary tools are highly proven to offer scalable and cost-effective solutions – particularly for dealing with anxiety and depression.  All of which fits perfectly with our own one-to-one live CBT therapy services.   

"Working together as one, we know that the whole will be greater than the sum of its parts – which ultimately means that we can deliver greater help, faster, more efficiently and effectively to those that need it most." 
TILs are part of a range of services which now form part of the Op COURAGE, established in 2021. This new online therapy provision aims to expand the capacity of mental health services available to support veterans and will help to reduce waiting times. The COVID-19 pandemic and a decrease in available charity-delivered services, have put additional pressure on the availability of support. 
Find out more
You can find out more information the mental health support available to veterans via the Transition, Intervention and Liaison Services (TILs) and OpCourage via the NHS website. 
Contact us to learn more about Togetherall's longstanding support for the armed forces community and how we can help a community you work with.