How digital services have transformed the delivery of mental health support: before, during, and post-pandemic
A panel of health commissioning experts discuss the future of digital mental health solutions.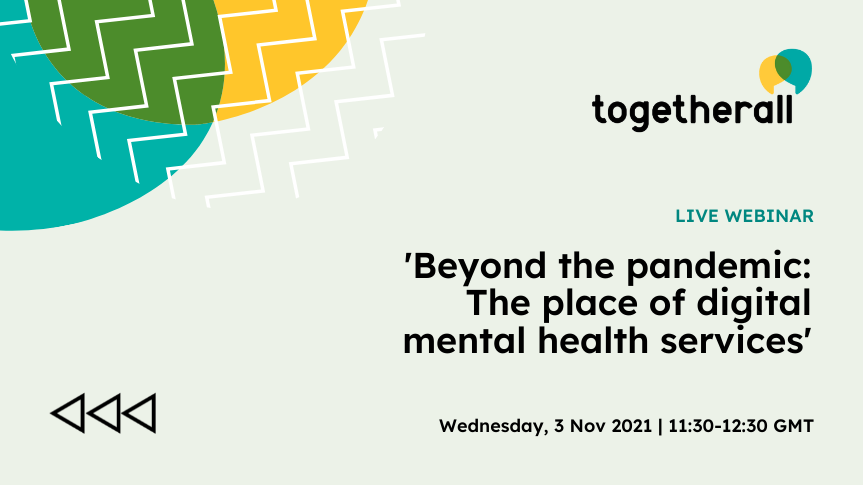 An ongoing concern
The Centre for Mental Health has estimated that up to 10 million people in England may need some form of mental health support arising from the disruption, the uncertainty, and the pressure caused by several waves of pandemic.   
There is no adequate model to cope with the scale of both the immediate aftermath and the long-term fall out, and certainly any model reliant on treatment-based solutions alone will not be affordable or sustainable.  
To address this potential gap in care, commissioners are increasingly turning to digital mental health solutions to meet the needs of populations at scale. According to ORCHA, the first wave of the pandemic saw a 200% increase in the use of mental health apps and, despite predictions based on the re-opening of face-to-face services, growth has continued at an average rate of 55%. 
On 3rd November 2021, Togetherall hosted an online event to explore the decision-making process of commissioning bodies when choosing digital solutions, how they're utilising these services as part of a wider network and what they think the market will look like in the future.   
The panel included: 
Gregor Henderson

– Independent Consultant and Strategic Advisor and Chair of Research at Togetherall

 

Jim McManus

– Public Health Director at Hertfordshire County Council and Interim President of the Association of Directors of Public Health

 

Barry Syme

– City Principal Psychologist at Glasgow City Council, Educational Psychological Services

 

Shirley Goodhew

– Consultant in Public Health at Blackburn with Darwen Council

 

Alan Renton –

Programme Manager at Scottish Borders

 

Andy Wilshire –

Mental Health Commissioner at NHS Hampshire, Southampton and Isle of Wight CCGs

 
They shared their key challenges and considerations for building a digital support system that is valuable to the mental health of their people, as well as insights on how to build them yourself. 
Early intervention
Early intervention was cited as one of the key benefits to digital solutions. Having digital solutions like peer-to-peer networks as part of a wider mental health strategy can enable populations to better understand their emotions and get validation or advice before they feel their situation is unmanageable.  
Andy Wilshire and his team commissioned Togetherall in order to help employees who were working to care for the population. "We were really conscious that across our ICS were a huge number of people working on the frontline in health and social care. We were really concerned about their mental health [so] we wanted to put something in place as quickly as possible to try and alleviate some of the anxiety and stress they were feeling." 
"Not everyone needs a clinical intervention. There are digital offerings that provide people with the opportunity to seek self-help."

– Alan Renton, Scottish Borders Council
As early adopters, Shirley Goodhew and the team at Blackburn with Darwen Council began looking at digital solutions to deliver mental health support in 2014. "At that time, the only option was face-to-face services," she said. In terms of solutions, her team wanted "quality-assured, evidence-based, clinically safe options for prevention and early intervention that were more timely and always available." 
Lowering barriers to access
Face-to-face counselling and traditional therapies are subject to long waiting lists and set physical locations, meaning those that don't meet specific criteria or live in convenient areas might end up without support. Having solutions that are available around the clock and accessible from anywhere can help populations to get the support they need and lessen the strain on other services. 
Alan Renton said that one of the main issues his local authority faced is a spread-out, rural population with less access to in-person services: "Attending appointments could take a 40-minute car journey, or hours on public transport. If you've got young kids, you've then got school and other responsibilities which makes it difficult to get there. Digital solutions gave [Scottish Borders] that accessibility." 
Finding digital solutions that fit into an ecosystem of benefits
Co-chairing the session, Gregor Henderson said that "it would be stretching it to think that one digital solution can provide all the needs for a population. So what we're seeing is commissioners putting together a jigsaw of well thought through digital solutions, whether it's for immediate response, whether it's for crisis, self-care and self-help." 
Barry Syme commissioned Togetherall for younger groups aged 16-25 in the Glasgow area. When discussing how Togetherall fits into the authority's broader offering of mental health support, he shed some light on the spectrum of needs that they've had to consider when implementing different solutions: 
"Given the diversity of the Glasgow population, we have to have a broader offer. 57% of young people are living in the most deprived areas and 140 different languages are spoken. We've been focusing on how digital fits in with a framework where we also have individual counselling and very specific focus therapies – this is an introduction to preventative [support.]" 
Tips for successfully identifying and integrating digital mental health solutions
Across all the panellists' responses in conversation, common considerations for best practice emerged in integrating digital solutions into your strategy: 
Look for evidence backed solutions

– Clinical backing was cited as one of the main reasons panellists chose Togetherall as part of their ongoing strategy to support mental health. Find digital solutions that draw on best practices that you would see with "traditional" therapies, such as confidentiality and clearly-defined safety procedures, to ensure you're providing for the most in need in your population.

 

Choose different services to suit needs

– Ensuring that digital solutions are a good fit for any gaps in need, or underserved communities, that you've identified. A basic level of digital literacy and access to technology is needed to successfully navigate these solutions. 

 

Raise awareness of available solutions

– Build trust and confidence in your selected solutions by running awareness campaigns through "official" channels. Some panellists worked closely with referrers and partners to increase uptake and engagement from their communities.

 
More solutions mean more innovation 
As we continue into a phase of "the new normal," digital solutions will become increasingly prevalent in the strategy of commissioning bodies when considering how best to support the mental health of their populations.  
"It is a busier market, and we need to welcome that because it brings innovation," said Gregor Henderson. "Commissioners are getting really smart now in what they're looking for – quality, safety, and evidence backing. They're looking at ways to differentiate who will be a good provider and who will fit within the needs of their ecosystem."  
"We'll see some consolidations and partnerships but look for the differentiations – look for safety, look for quality, look for the ability to handle risk online, and really begin to see how that will fit in with your population's needs." 
Watch the webinar
Click the button below to watch the full webinar.