How to support LGBTQ+ mental health with peer support
We're highlighting some of the issues we have seen negatively impact LGBTQ+ people joining Togetherall, and the role peer support can play in their journey to feeling and coping better.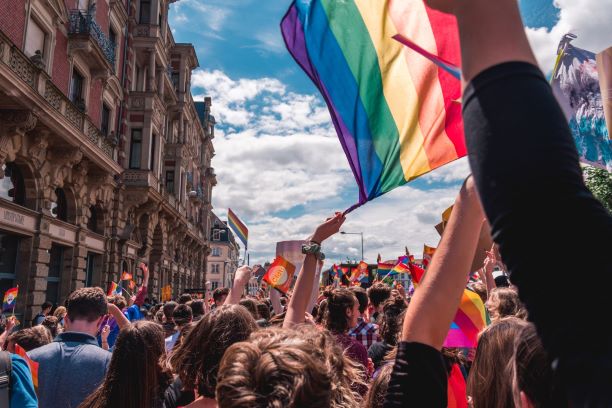 For pride month every year, many organisations don a rainbow-bright colour scheme – logos, social media, and even products undergo a month-long transformation.
While the show of solidarity reflects a positive and progressive shift, it is also often criticised for the lack of attention paid to issues faced by the LGBTQ+ community year-round. Among the most prominent (and often misunderstood) are challenges relating to the mental health of LGBTQ+ people.
What could lead to mental health challenges for the LGBTQ+ community?
Symptoms and issues such as depression, anxiety, and substance abuse are alarmingly prevalent, affecting the community disproportionately. A 2016 survey by Youth Chances found that 44% of the LGBTQ+ respondents reported suicidal thoughts, compared to 26% of non-LGBTQ+ participants.
There is an often-made assumption that poor mental health is somehow inherently and inevitably part of LGBTQ+ experience. This assumption can mask the cultural and societal factors that play into – namely the experience of feeling 'othered' in a world that is not always accepting.
To help shed more light on these experiences, here are some of the commonly discussed themes that our professionally trained moderators and clinicians have seen in the Togetherall community:
Confusion – It can be particularly difficult to explore new or confusing feelings with people we know, and so many people struggle to keep their feelings hidden. . Living 'inauthentically' can lower self-esteem and confidence, increase stress and lead to an increased risk of depression and anxiety.
Coming out – Coming out is an important part of the LGBTQ+ experience, and can be a distressing process for some, regardless of age, experience or level of confidence.
The feeling of 'coming out' is often misunderstood to take place 'once' but happens every time someone needs to explain their gender identity or sexuality in conversation. This can extend beyond just conversations with family and friends to include questions from healthcare providers and professionals, employers, and community organisations; these conversations can bring back feelings of shame, fear of rejection and distress time and time again. Coming out is a lifelong experience.
Isolation – It is not a revelation that the experience of growing up LGBTQ+ can feel lonely. The COVID-19 pandemic posed additional challenges. For young people especially who hadn't yet come out and weren't able to attend school or university, having to spend months in lockdown in family situations or communities that were less accepting contributed to increased experience of depression, anxiety and isolation. The BBC reported on a considerable rise in people seeking urgent help for suicide.
Discrimination and violence – Togetherall members have shared that they have been criticised or discriminated against for drawing 'attention' to their sexuality.
The potential for hate crimes or the experience of having been discriminated against, especially physically, can create a fear for one's safety and exacerbate stress and anxiety for many LGBTQ+ people.
The experience of being LGBTQ+ is diverse and quite nuanced. It's not a single experience. Although there are some common challenges, each subgroup, intersectional minority and individual faces very personal feelings and unique experiences pertaining to their identity and sexuality.
 
How can peer-to-peer support improve LGBTQ+ mental health?
Empathy and validation
Being able to connect with peers with both similar and different lived experiences can be highly beneficial to individuals who are looking to understand more about their feelings and emotions. Being able to see their experiences normalised with others who have faced similar challenges can help people with acceptance, self-esteem, resilience and ultimately to live a more authentic life.
On the Togetherall platform, our professional moderators known as Wall Guides consistently find that when LGBTQ+ members share a concern or experience, other members – regardless of their gender identity or sexuality – will comment on posts to share support and advice to help them along. Around 6% of Togetherall registrants identify as gender neutral, non-binary, undisclosed, and transgender.
Going beyond stigmas
Societal stigma and fears of perceived stigma are still a concern for many LGBTQ+ people looking to get mental health support. The Trevor Project reported lack of trust in therapists and counsellors as being a barrier to mental health care provision, so being among peers who have had the same experiences can also help people to seek further assistance should they need it.
Togetherall is anonymous and provides a safe space to explore feelings and share without stigma. As an additional layer of safety, our Wall Guides actively manage (moderate) problematic language or discussions quickly and efficiently, ensuring that the community remains inclusive, safe, and welcoming to all.
Togetherall works to support the LGBTQ+ community in pride month and beyond
While society as a whole makes progress on education on LGBTQ+ issues, acknowledging the common challenges and experiences faced by these groups and providing safe peer-based support can help to widen the support available and tailor it to better meet needs.
Togetherall has created a safe and supportive community where LGBTQ+ members are welcome to explore specific issues, share their feelings and support others, without stigma or generalisation. If you'd like to see how we can support your people, click here to book a demo with Togetherall.