Extending wellbeing and mental health support for professional body members
The Association for Perioperative Practice provides Togetherall access to its members.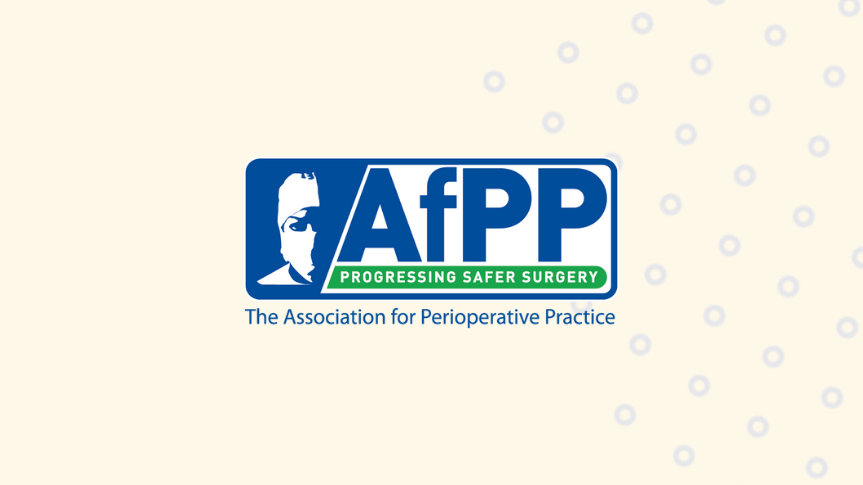 The Association for Perioperative Practice (AfPP) is the professional membership association dedicated to clinicians working in surgical theatres and operating departments in the UK. For nearly 60 years they have provided guidance and training to their membership which includes nurses, anaesthetists and other specialised departmental practitioners providing operative care. With their 7,000 members working in one of the toughest medical environments and under enormous pressure, The AfPP looking for a way to enhance their mental wellbeing support to its members. Togetherall's anonymous and safe online community was a natural way to extend the choices available.
The AfPP puts its 7,000 members at the heart of everything it does, and its aim is to drive care quality and safety by supporting practitioners to become the best they can be. Like many professional membership bodies, the AfPP helps practitioners to develop their skills and keep their knowledge up to date.
The pressure on professionals' mental health
Mental health challenges affecting workers in the NHS and the wider healthcare sector is an ongoing and increasing concern for those who support staff across the service. Many of these issues have been made worse by the COVID-19 pandemic, with people being relocated to new areas, workload and hours increasing, and the ongoing uncertainty faced by many key workers during the spread of the virus. The main concern is that poor mental health creates a ripple effect, impacting both healthcare workers and in turn, the quality of care for patients.
Pressure is especially high in perioperative care – including in the operating theatre – given the nature of working in such critical and fast-paced roles. A survey published in 2020 found bullying can be an issue affecting practitioners, with half of respondents believing their working culture enabled such behaviours. The AfPP decided to act swiftly. Alongside other measures, they introduced Togetherall to their existing member benefits to provide the much-needed additional wellbeing support.
Extending members' support community
The AfPP offers a free, confidential advice service to discuss professional questions and issues. But when it came to issues such as stress, anxiety and tools to help people cope, the AfPP wanted to go further. "We had heard good things about the Togetherall platform from other users," says AfPP CEO, Dawn Stott. "When we did our research, we realised it was a comprehensive and safe platform that would support our members."
Togetherall's confidential, online community was a natural fit for the association to extend its member benefits and support mental wellbeing concerns. Through the association's online forum, members could already connect and share professional knowledge. Now with Togetherall, they could access an additional but anonymous community in confidence to share and receive emotional support.
AfPP wanted to provide flexibility and choice and offer support to those who could not, or preferred not, to access traditional support routes. Dawn Stott says that "in a very difficult and fast-paced environment perioperative practitioners need support in many ways. Togetherall provides many different types of support for those who log in to access – it isn't just about mental health."
How Togetherall provides support  
In a stigma-free environment, members can follow their own path towards better mental health. One member, who had been working in a stressful environment, said:
"I was always the strong one, but when I was signed off with work-related stress, I thought I was a failure. On logging in to Togetherall, I wasn't alone anymore. I've been using it for a year now, and I'm recovering and back at work. I'm truly grateful for Togetherall."
Members join a supportive, moderated community with resources, assessments, and courses to cover a range of common mental health issues, from anxiety, depression, and isolation, to relationship issues, work stress and lifestyle challenges.
Togetherall is also unique in being monitored by mental health practitioners, all trained members of the British Association for Counselling and Psychotherapy (BACP) or equivalent bodies. They ensure the community is safe and, supporting members at immediate risk.
Ongoing support
After six months of supporting AfPP members during the height of the pandemic, the association decided to extend its Togetherall access until 2023.
"I'm delighted to hear that the members of the Association for Perioperative Practices will have free access to Togetherall for a further three years," said Togetherall CEO, Henry Jones.  "In the past six months, our service has supported the mental health of many members of the AfPP, who have experienced the pressure of working on the frontline of the pandemic. Our safe and active community can be a vital resource for all working in perioperative care as a way to express how they are feeling and receive support from our community."
Contact Togetherall to have a conversation about supporting the mental health and wellbeing of your membership association or professional body members.