Client story: Supporting people's mental health with storytelling – Touch Network
How Togetherall client Touch Network harnesses the therapeutic effects of meaningful and purposeful storytelling to connect people within communities.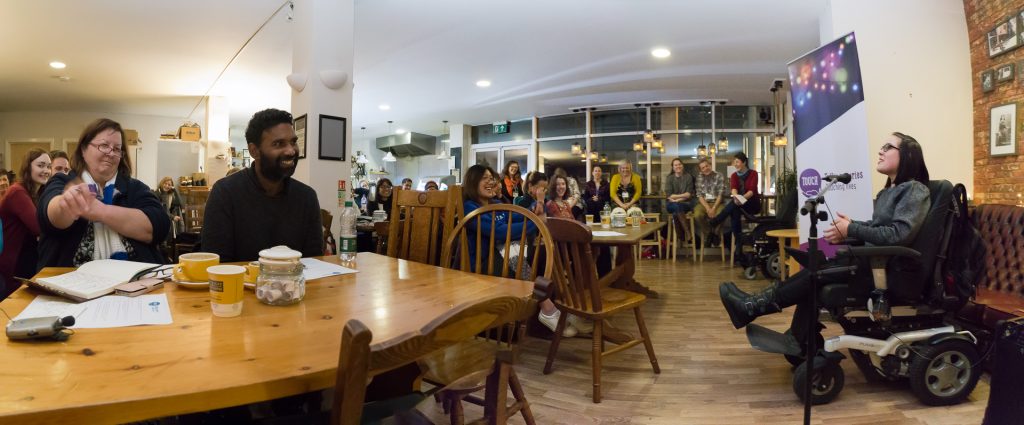 After struggling with depression and spending significant time in and out of mental health hospitals during her childhood, Debs Carter's life took a turn when she attended a community hospital and started to build friendships with other patients. The experience of hearing other people's stories unlocked Debs' ability to vocalise her own feelings which is where her recovery began.
I was blown away that people were able to put all the thoughts I always had into words and, for the first time, I did not feel alone in my struggles.

Debra Carter, Founder of Touch Network 
Debs' experience in the community hospital left "a touch" in her life so, in 2015, she shared her mental health recovery story in a book that was sent to 150 people. She invited others to also share their stories and held a successful one-off event at a small coffee shop in Southampton.
This is where Debs realised the need for a real-life storytelling community and Touch Network was born.
"From my own experience," Debs says, "I wanted to create a social and fun environment where we gently invite people to reflect on themselves through other people's journeys. This is at the core of Touch Network and what we do."
The power of storytelling
Touch Network, like Togetherall, works on prevention – through storytelling, Touch helps people who are at risk from further developing mental health issues by intervening in the early stages. By validating emotions and experiences when dealing with life's challenges, Touch creates a safe space to share, free of stigma.
Knowing others have experienced similar issues, and that these can be overcome, helps to provide hope. We aim to inspire hope in both storytellers and guests, and to put a spotlight on the power of human connection and resilience.
Touch organises storytelling events around the Southampton area and online, inviting people to take to the stage and share their experience with an audience. Touch Network also provides support to NHS and Social Care organisations with development programmes for practitioners, critical friend service and bespoke support. "We have coaches in our team who support the storytellers in drawing out their story and helping to vocalise it," Debs says. "On the evenings, it's like going to the theatre; speakers share their stories, and we create an uplifting atmosphere to make sure both the audience and the storytellers feel at ease."
At the heart of Touch Network's work, there is also a community blog where people can share their stories in a written form and read other people's experiences.
Debs is a huge advocate of using storytelling to empower and motivate other people to open up or to reflect on their own mental health. "Navigating life challenges together as part of a community reduces the feeling of being alone and helps us move forward," she says. Hearing stories of resilience brings hope, and hope is a key factor in preventing struggles with mental health beginning or getting worse. Moreover, bringing people from all walks of life together creates a stronger and more resilient network that grows quicker and makes everyone feel welcome.
At Togetherall, we share the same values and believe in the power of peer-to-peer support to confront our own mental health challenges whilst helping others to do the same.
The evidence is convincing: the wider determinants of health, such as the communities in which we exist, have a more beneficial impact than individual lifestyle factors and health behaviours. Togetherall uses innovative technology, first-class clinical teams, and trained moderators to create a unique environment for members to lead their own recovery and support other people on the way.
If you want to learn more about how Touch Network has embedded Togetherall into its community of storytellers, please read and share our case study.