Togetherall partners with the University of Edinburgh to research the key ingredients of digital mental health solutions
The study will look at member experiences on the Togetherall platform, as well as risk management and mitigation.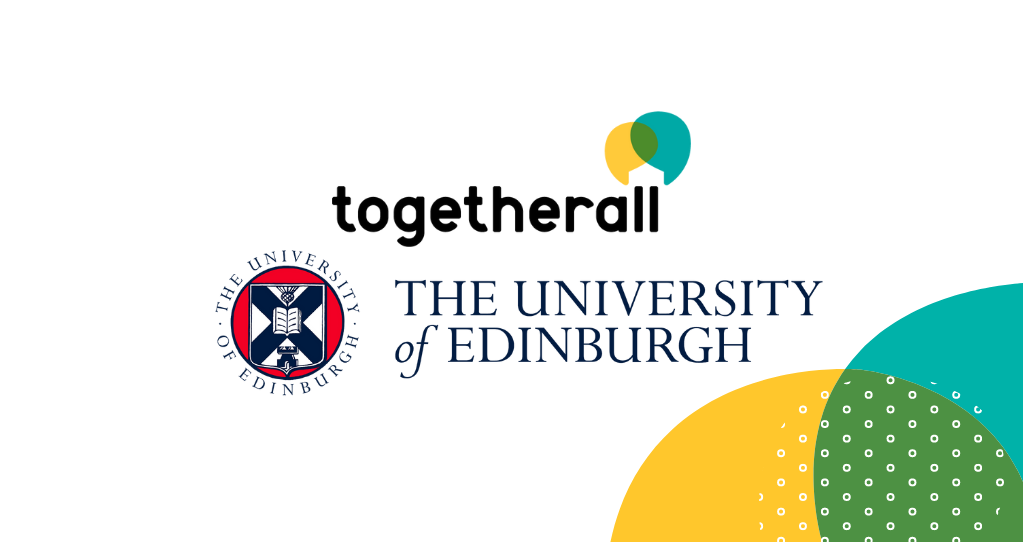 About the study
Clinical and Health Psychology Science at the University of Edinburgh have partnered with Togetherall to study the implementation and impact of peer support digital platforms.
The project is funded by the University of Edinburgh Economic and Social Research Council (ESRC) Impact Accelerator fund, which encourages "collaboration between researchers and business, public and civil society" to influence policy and practice in the business, public and third sectors.
The study will look at people's experiences of using the platform and the views of those who provide and commission the platform and its services.  The platform has been developed over 15 years and provides access to peer support online, with always on clinical moderation and a range of training, assessments, groups available. The platform is available all day, every day 24/7.
The study will produce valuable insights into digital mental health services and how peer support works online. The findings will enable key resources to be produced and will be used to influence and guide future policy and practice and further research.
The results of the study are due to be published later this year.
"Our new ESRC Impact Accelerator is an exciting opportunity to better understand how digital mental health peer-support works. This is important both for those using the Togetherall platform and those commissioning the service" says Dr Angus MacBeth, Senior Lecturer in Clinical Psychology at the University of Edinburgh.
"We're excited to work with Togetherall and are confident that the project will provide real insights into this unique digital mental health peer support platform and how to tailor and enhance digital mental health solutions to make impact at scale.
"Our findings will be of interest to those working in digital mental health, professionals, academics and those with lived experience. The project will also help develop principles for designing and implementing evidence-based digital mental health solutions."
Dr Ben Locke, Togetherall's Clinical Director welcomed the new study, "This study will bring valuable insights to those providing, using, and developing digital mental health solutions.
"We are delighted to be working with the University of Edinburgh on this, our second research partnership with the team. Digital mental health services are challenging to assess, and this study will further our understanding by hearing the views of those who use, provide and commission the platform."
A continuing partnership
This is the second project Togetherall that is working on with The University of Edinburgh. Earlier this year, researchers at The University of Edinburgh analysed Togetherall data to see whether digital solutions are effective in supporting the mental health of young people.
The results were very encouraging and helped to underline the importance of peer support online to help people with their mental health, prevent their problems getting worse, have an accessible, always on, platform that gives early support and on-going support for recovery.
Find out more
Togetherall is an evidence-driven business. With our research programme, we aim to contribute to the field of digital mental health and ensure we're delivering the best possible service to people who use our platform for support.
If you'd like to find out more how we could support your cohort, book a demo, and get an overview of our platform.